Environmental
As our business and international footprint continue to evolve, Ryan Specialty is actively working towards diminishing our environmental and carbon footprint.
Ryan Specialty has made a conscious effort to reduce, reuse and recycle at every available opportunity. Our offices have recycling programs in place and provide reusable coffee mugs and kitchenware. We also purchase compostable or high post-consumer waste content paper napkin and towel products.
We have several initiatives in place to reduce our emissions on both an individual and company basis. Several of our buildings, including our home office in Chicago, are LEED certified, and we prioritize ENERGY STAR office equipment, appliances, and printers. To further lower our environmental impact, we have adopted an operating model that provides remote work flexibility, thereby reducing commuter travel. We are also working to reduce business travel through an enhanced use of technology.
Supporting Renewable Energy
Our wholesale specialists directly support renewable energy development by distributing critical insurance products for renewable energy facilities throughout the United States. Similarly, one of our managing general underwriters (which we founded in 2011), PERse, specializes exclusively in insurance solutions for the renewable energy sector and is a leader in facilitating insurance coverage for wind and solar power in the United States.
Social
Culture and community are a priority for Ryan Specialty. We strive to promote an ecosystem that supports, accepts, values, and promotes diversity. We safeguard and champion the health, safety, and wellbeing of our employees and actively seek opportunities to support and serve our community.
Diversity, Equity and Inclusion
Ryan Specialty's DEI initiative is led by our Diversity, Equity and Inclusion Council, which is comprised of a cross section of Ryan Specialty teammates. The DEI Council's core mission is the promotion of diversity throughout the firm and insurance industry. We are committed to building and sustaining a diverse workforce that is reflective of society throughout the entirety of the organization. Our vision is of a workplace free of conscious and unconscious bias where all teammates are valued and evaluated based on their performance and contributions. Differences in race, creed, color, religious beliefs, physical capabilities, gender identity or sexual orientation are considered an asset by bringing together varied perspectives to better serve our clients, trading partners and communities.
We have also engaged Korn Ferry, a recognized leader in DEI consulting, to assist us with further developing our short and long-term goals, as well as developing the methodology for achieving those goals. We are confident that Korn Ferry's thorough and immersive process will yield sustainable and enduring results.
With our DEI Council's guidance, support of the firm's leadership, and Korn Ferry's consultation, we have supported several significant initiatives with the primary purpose of enhancing diversity within our firm as well as the insurance industry as a whole.
We have initiated a professional development program for two inner-city high schools in Chicago, Leo High School and Providence St. Mel, with the goal of raising student awareness for career opportunities in the insurance industry. We believe that through these efforts, we can make a lasting impact by attracting more diverse talent to our industry while also positively influencing the trajectories of these young people.
Ryan Specialty also has joined a broader insurance industry initiative as an inaugural member of the Insurance Industry Executive of Color Leadership Roundtable. The intent of the Leadership Roundtable is to seek opportunities and areas of growth to ensure that our industry is properly positioned to attract, retain and support the advancement and development of people of color both in our industry and within the participating companies.
We have partnered with the Ryan Insurance Program for Success and Equal Opportunity (R.I.S.E.), established by the family of our Founder, Chairman and CEO Pat Ryan, in launching a Risk Management Program at the historically black college, Fisk University. One objective of this program is to collaborate with others in the insurance industry in placing Fisk students in internship programs and assisting them in finding post-graduate employment in the insurance industry, including at Ryan Specialty. The long-term goal for R.I.S.E. is to expand to other HBCUs, using Fisk University as the prototype for future programs. Ryan Specialty works hand-in-hand with R.I.S.E. and offers pro bono support wherever and whenever we can. Read R.I.S.E.'s Fisk University Gift Announcement.
In 2022, Ryan Specialty formed WOW! (Women. Opportunity. Winning.), a platform designed to support and empower the women of Ryan Specialty. The mission of WOW! is to assist women in lifting and advancing their careers through a series of outreach programs and discussions designed to facilitate leadership, inspiration, and teamwork.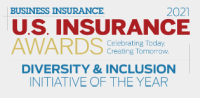 We are also very proud to have received the Diversity & Inclusion Initiative of the Year Award from Business Insurance at its 2021 U.S. Insurance Awards for our collaboration with R.I.S.E.. The award recognized Ryan Specialty's work as 2021's most notable effort to promote diversity in the commercial insurance industry. Be sure to watch the Diversity & Inclusion Initiative of the Year Award Presentation!
Employee Engagement & Wellness
Employee Engagement 
The development, attraction and retention of employees is a critical success factor for Ryan Specialty. As a result, we have established Ryan Specialty University, which combines classroom and on-the-job training practices. Ryan Specialty University provides world class training and development programs for our newest teammates. This formalized institution is critical to our future growth and ability to continue to recruit the best of the best.
Employee Wellness
In addition to our robust health benefits packages (which include competitive and subsidized medical, dental, and vision insurance coverages), Ryan Specialty has a suite of well-being benefits and resources that are designed to provide care for the physical, mental, and emotional health of our employees and their families. We also acknowledge and promote an environment where employees are enabled to find a balance between work and personal life.
Our well-being resources and tools are available to all employees and their families and include the following resources:
Meditation and Mindfulness App: designed to reduce stress, promote better sleep, and lower anxiety.
Counselling Services: provides confidential, short-term counseling services from licensed professional counselors.
Personal Fitness App: provides access to at home workouts, nutrition guides, and mindfulness classes.
Elderly Care App: a resource for employees and their families that provides expert coaching, support services, advice and tools.
Charitable Programs & Community Outreach
Each year, Ryan Specialty collectively donates and/or sponsors over 250 charities, community outreach programs, and insurance industry programs. Each of our offices also organize grass roots volunteer opportunities and charitable events across the country. Some examples of the charities we support are as follows:
Ronald McDonald house through an annual toy drive as well as providing meals for guests staying at the local facility.
Up2Us Sports, which invests in the future of Chicago's youth in creating stronger, safer, and healthier communities. Ryan Specialty sponsors a team of cyclists for their annual Spin to Break the Cycle event in Chicago.
Chase Corporate Challenge, which provides funds to a number of local charities. Ryan Specialty has sponsored a team of walkers/runners for the past 5 years.
We sponsor students every year from Cristo Rey Jesuit High School as part of the Corporate Work Study Program. The program develops critical social and technical skills and makes a private high school education affordable for disadvantaged students.
Front line workers during the COVID-19 pandemic by donating to the American Nurses Association's. Coronavirus Response Fund for Nurses. Hundreds of our employees participated in this matching-funds fundraiser.
RT Specialty is a proud supporter of the Make-A-Wish foundation.
Matching employee donations to My Brother's Keeper.
Matching employee donations to the NAACP.
Matching employee donations to the National Urban League.
Governance
Ryan Specialty is dedicated to conducting business with integrity, adhering to the highest ethical standards, and maintaining a company culture that encourages honesty and transparency.
We maintain and adhere to a Code of Conduct which is distributed to every teammate of the firm. All teammates must annually acknowledge, in writing, that they have received, reviewed, and agree to abide by the Code.
Ryan Specialty has both a cybersecurity and privacy program, which include protocols, controls and training designed to protect Ryan Specialty systems and client and employee data. We are committed to complying with all applicable cybersecurity and privacy laws to maintain the trust our customers, teammates, and trading partners have when they share personal information with us.
Ryan Specialty has a dedicated Information Security team called InfoSec, whose mission is to secure system and network resources, and protect the confidentiality, integrity, and availability of the organization's information systems and data. This is accomplished through a robust combination of training users to identify and avoid scams and attacks, technology-based defenses, and a comprehensive Incident Response Plan.
Leadership & Board Diversity
Ryan Specialty has representation of both women and minority groups on our Board of Directors and within our executive leadership team. Differences in race, creed, color, religious beliefs, physical differences, gender identity, and sexual orientation, among others, are considered corporate assets, as bringing together varied perspectives better serves our clients, trading partners and communities.
Anti-Corruption & Anti-Competitive Practices
We are committed to compliance with applicable laws and regulations, and we prohibit bribery and corruption in any form. Employees and trading partners are prohibited from directly or indirectly offering, promising, giving or authorizing anyone to give money or anything of value to a government official for the purpose of obtaining a business advantage.
Anti-Bribery & Anti-Money Laundering Practices
Ryan Specialty is committed to conducting its business and operations with the highest ethical standards and in full conformity with the anti-money laundering (AML) and anti-bribery regulations and statutes. We are also dedicated to knowing our customers and potential customers. This commitment and understanding are necessary for Ryan Specialty and our employees to avoid criminal liability as a result of customers using the resources of the institution for illicit purposes (i.e., money laundering and the funding of terrorist or criminal activity). Employees are charged with being responsible to make all reasonable efforts to determine the true identity of its customers and to maintain a clear understanding of its customers' financial needs and practices.
We have also developed internal guidelines, procedures, and controls designed to detect and deter money laundering and suspicious activities and the reporting of such transactions to appropriate parties/agencies as required. In addition, Ryan Specialty has internal policies, workflows, and procedures to ensure compliance with U.S. Treasury Department's Office of Foreign Assets Control (OFAC) prohibition against Specially Designated Nationals (SDN), Sanctioned Programs, and Sanctions Countries.
We utilize a third-party vendor to assist us in screening individuals, groups, third parties, and companies against designated sanction lists according to the territories in which we do business. Our screening process involves an enhanced due diligence, that involves assessing any material partnerships and alliances to understand and detect our clients and trading partners potential inappropriate and potentially unethical business activities.
We strive to conduct business with fairness, integrity, honesty, and ethics and encourage behavior that will maintain the public's confidence and trust in our operations.
To help meet these expectations, and pursuant to Sections 301(4)(B) and 806 of the Sarbanes-Oxley Act of 2002, the Audit Committee of Ryan Specialty's Board of Directors has adopted a whistleblower policy with procedures for the receipt, retention, and treatment of complaints regarding accounting, internal accounting controls or auditing matters, the confidential, anonymous submission by employees of the company of concerns regarding questionable accounting or auditing matters, and to alert the audit committee to possible problems before they have serious consequences to the firm.