Posted on 07.23.15
RSG Attends the Professional Insurance Agents of Georgia + Alabama Convention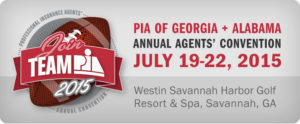 After a brief hiatus from conventions, I attended the Professional Insurance Agents of Georgia + Alabama convention in Savannah, GA in mid-July. The convention was held at the beautiful Westin Savannah Harbor Golf Resort & Spa.
This year we were welcomed to Savannah with temperatures in the high nineties, with a heat index well beyond the one hundred degree mark. Although the weather was quite hot, it was a pleasure to be back in Savannah. The beautiful harbors and abundance of history in old Town are something I look forward to each year. Fortunately the weather didn't hinder participation for the event; attendance was up from 2014.
The four-day convention was nonstop, featuring a wide variety of events including; breakfast lunch and dinners, the 1752 Charity Golf Tournament, the YPC & Partners pool party, and a Closing Tailgate Party, where attendees were encouraged to wear their favorite teams colors!
The PIA held a session titled; "Not your grandpa's Globe-Recognizing and Insuring Supply Chain Interruption". Several interesting posts were made on insuring raw materials used in production that come from various parts of the world in light of the political climate in many other countries.
The convention was a great four days of networking and exchange. As always, I would like to thank everyone who I had the opportunity to speak with while at the PIA of Georgia+ Alabama convention. I am looking forward to next year!
Sincerely,
Cindy Hogan
Regional Vice President